Wow, it's a big birthday here in blog land,
Fab N Funky
is turning one! And to celebrate the big day, we're hosting a blog hop with a ton of prizes, yipee! All the DT have created wonderful birthday cards to celebrate and we all get to give away goodies, how much fun is that?
I made a super sparkly, glittery winter birthday card, featuring a beautiful pre-coloured image from Fred She Said. Honestly, it doesn't get any easier than that, print and stick! And lucky me, I get to give away a prize from
Fred She Said
, a $25.00 gift voucher!! (See my close-up photo for the over abundance of glittery goodness!) To win, all you have to do is leave me a comment!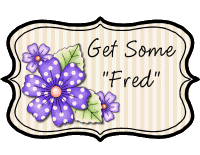 Now, if you haven't been to
Fab N Funky
yet, you might want to pop over there to start the hop, because you have to collect letters for a chance to win a prize on the challenge blog. I'm going to make things easy for you, your letter is:
R
As you hop around and check out the DT's awesome cards, collect the letters and leave comments on each blog for lots of chances to win!
You should have come here from
Andrea's
blog, but in case you're lost, here's a list of the links: